Nastel Recognized As Top 10 Banking Tech Solution Provider 2022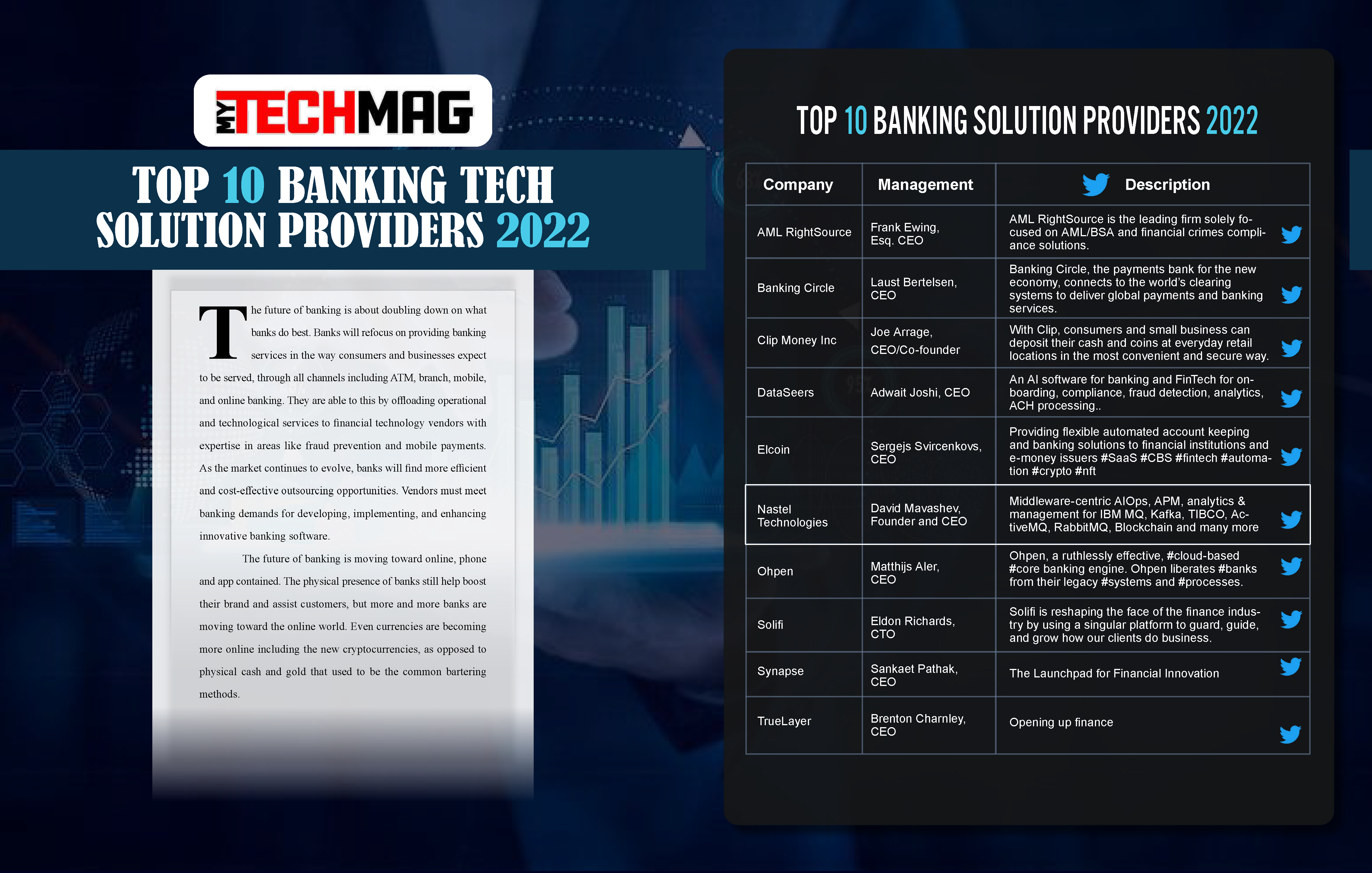 Nastel is very proud to be recognized as a Top 10 Banking Tech Solution Provider for 2022. This reflects the importance of integration middleware throughout finance organizations. As David Mavashev says,
"The Nastel Platform helps the business as a whole. Business users and others including middleware admins, application developers, operations, and support groups are amongst the users and beneficiaries."
See below for the full text of the magazine article.
---
Nastel Technologies – Intelligence from Integration
Leading Global Provider of Messaging Middleware-Centric Performance & Transaction Management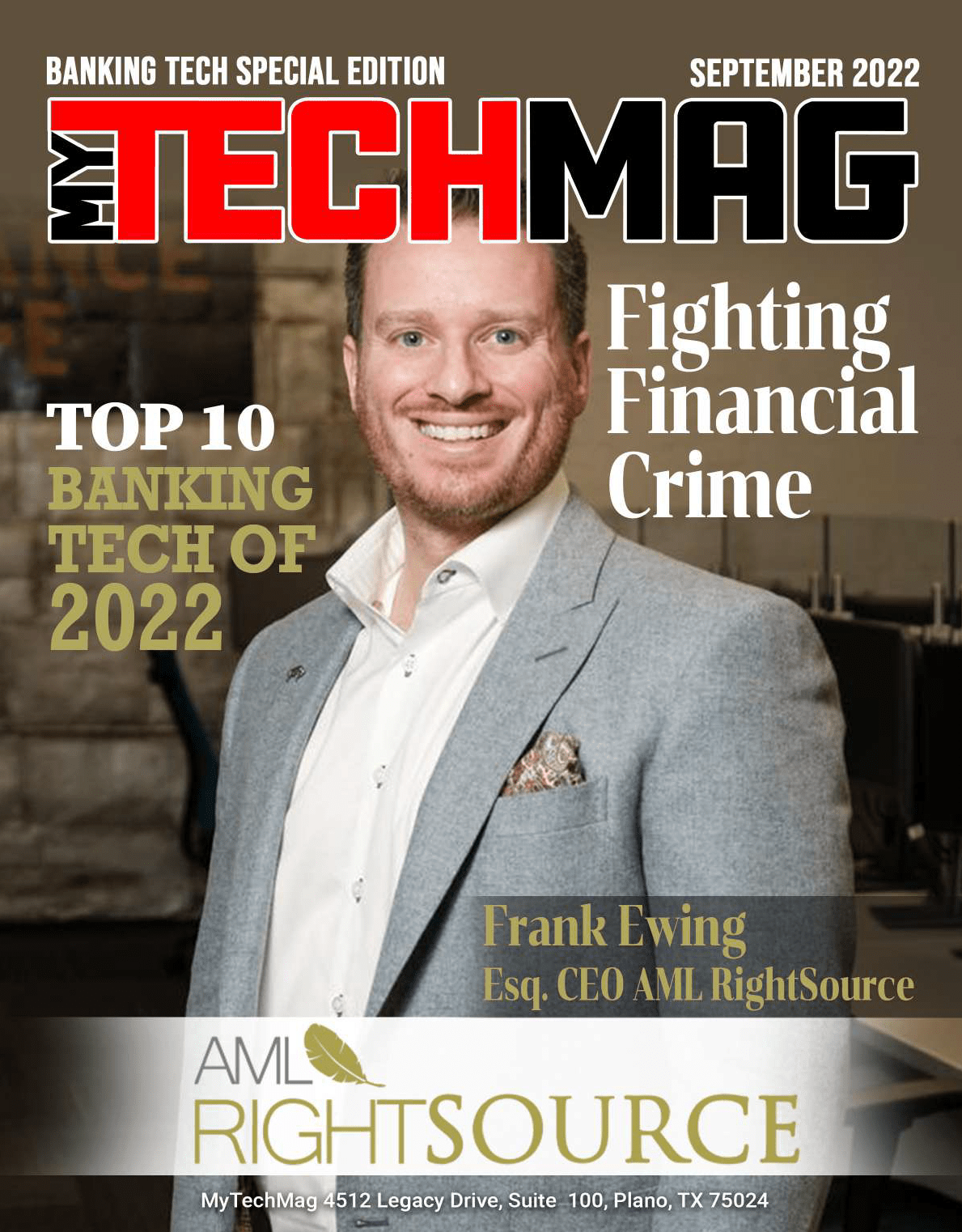 Banking is about financial transactions. These are executed by sending payments and instructions over middleware. If you control the middleware, then you control the business. If the middleware fails, then the company fails. If you can see and analyze the transactions going through the middleware, you can see the business itself. And if you have real-time analytics of that data and it's automatically actioned, then you can innovate and accelerate the company's development. The Nastel i2M (integration infrastructure management) platform enables configuration and reconfiguration in real-time, allowing exploration of streaming data as it comes in, enabling business agility and innovation.
Founded in 1994 by CEO David Mavashev and headquartered in Plainview, NY, Nastel Technologies are the global experts at exploiting messaging middleware environments and the contents of messages to improve the business and technical understanding of complex enterprise application stacks. They achieve this by managing the messaging middleware, monitoring entire application stacks end-to-end, providing proactive alerts, tracing and tracking transactions, visualizing, analyzing, and reporting on machine data in meaningful ways, simplifying root cause analysis, and providing data to support business decisions.
Nastel's i2M Platform provides advanced management capabilities to the messaging middleware administrators. Integration Infrastructure Management is the supporting of the multi-middleware environment from the point of view of configuration, performance & availability monitoring & alerting. It provides insight into business transactions using message tracking, analytics, and Management Information (MI) for decision support and capacity planning of the middleware-centric applications, the technology that connects them and the business data itself.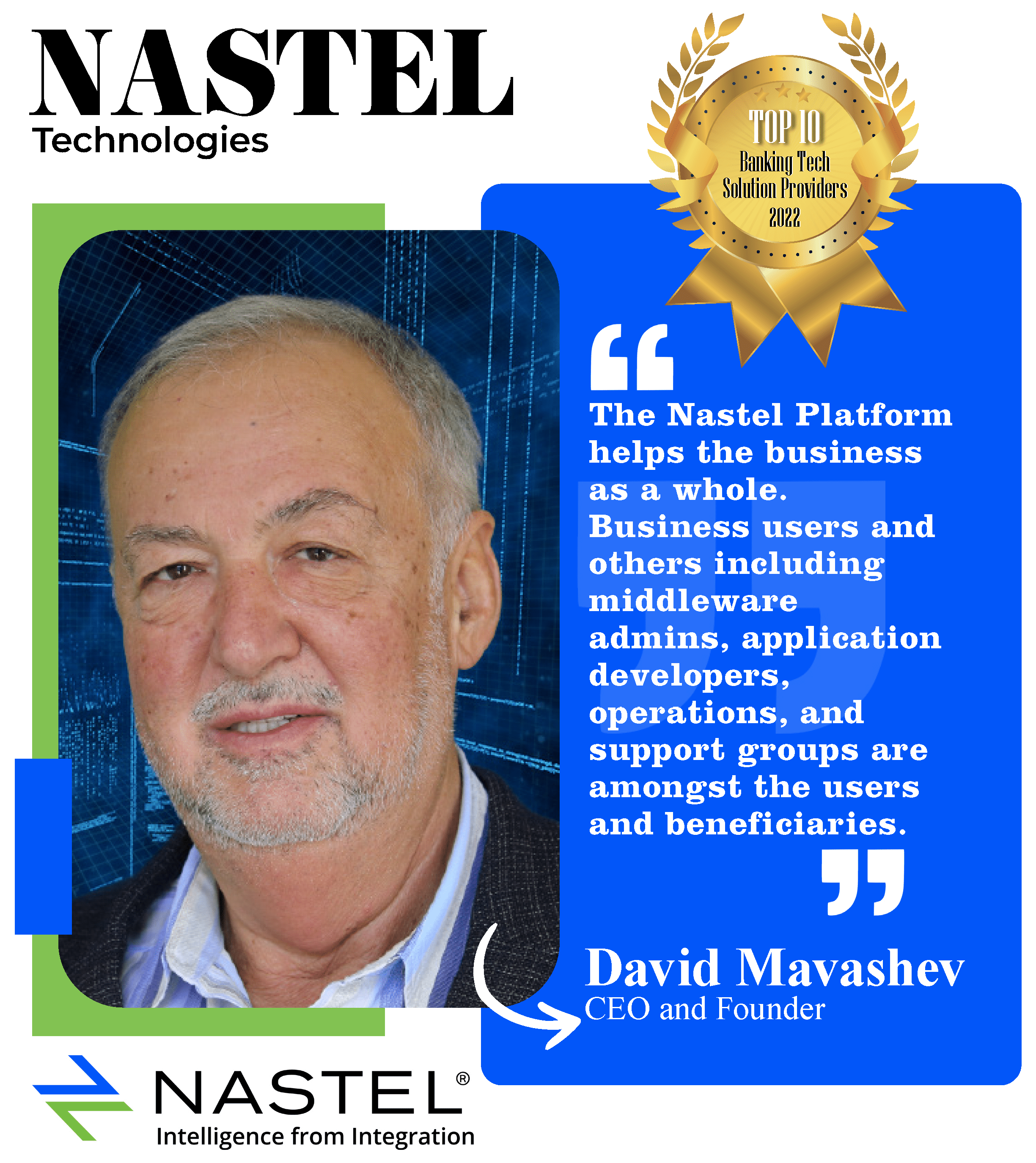 "The solution helps the business as a whole. Business users and other personnel including middleware admins, application developers, operations, and support groups are amongst the solution's users and beneficiaries," says David. He is hyper-focused on helping, and understanding the needs of, customers. Nastel's i2M platform helps the messaging admins manage their environment at scale, with security, repeatability, speed, reduced risk, and minimal need to understand the underlying operating systems and environments such as mainframe, Windows, virtual machines, cloud, and containers. Similarly, it allows them to use a single tool to manage multiple messaging middleware products such as IBM MQ, Kafka, Solace, and TIBCO without needing a detailed understanding of each technology.
Typically, companies have governance processes requiring that only the middleware team change and administer the integration infrastructure. An administration team of around ten people usually handles requests from hundreds and, in large organizations, from thousands of support and development personnel. This takes time, so the middleware team is seen as a bottleneck to business. The business is delayed in getting new services and products out to market, and it has competitive, reputational, financial, and operational risks, potentially causing a loss in market share.
"Our self-service solution with its granular security model, gives access to thousands of users and empowers them to control their part of the middleware configuration for development or QA purposes," explains David. "They can only change the relevant objects and are able to "view but not change" or "create but not delete" for a very strict set of objects based on rules or naming conventions. This allows them to proceed with their work and for the middleware team to work on higher-value activities."
It is pertinent to mention, 7 of the top 10 banks in the world use Nastel to support their business. For instance, one of the most prominent American banks recently replaced BMC with the Nastel solution because their auditors said they had a Key Person Dependency. Their middleware monitoring needed so much configuration that only one person understood it. If that person left the company, they'd be without support and maintenance for their monitoring and hence couldn't release new business applications. The customer said, "The biggest thing that helped you guys is the flexibility of the company and openness to be a partner rather than just a vendor. We could come to you and say, 'look this is our need or requirement' and you did everything you needed to meet those requirements." Now the bank will never again be in a situation where it takes two weeks to locate a message in their system. The Nastel solution had fully replaced BMC for more than 6000 users and 800 distributed applications, and IBM z/OS in 11 months. It paid for itself with the savings from reducing the ongoing Tivoli license costs.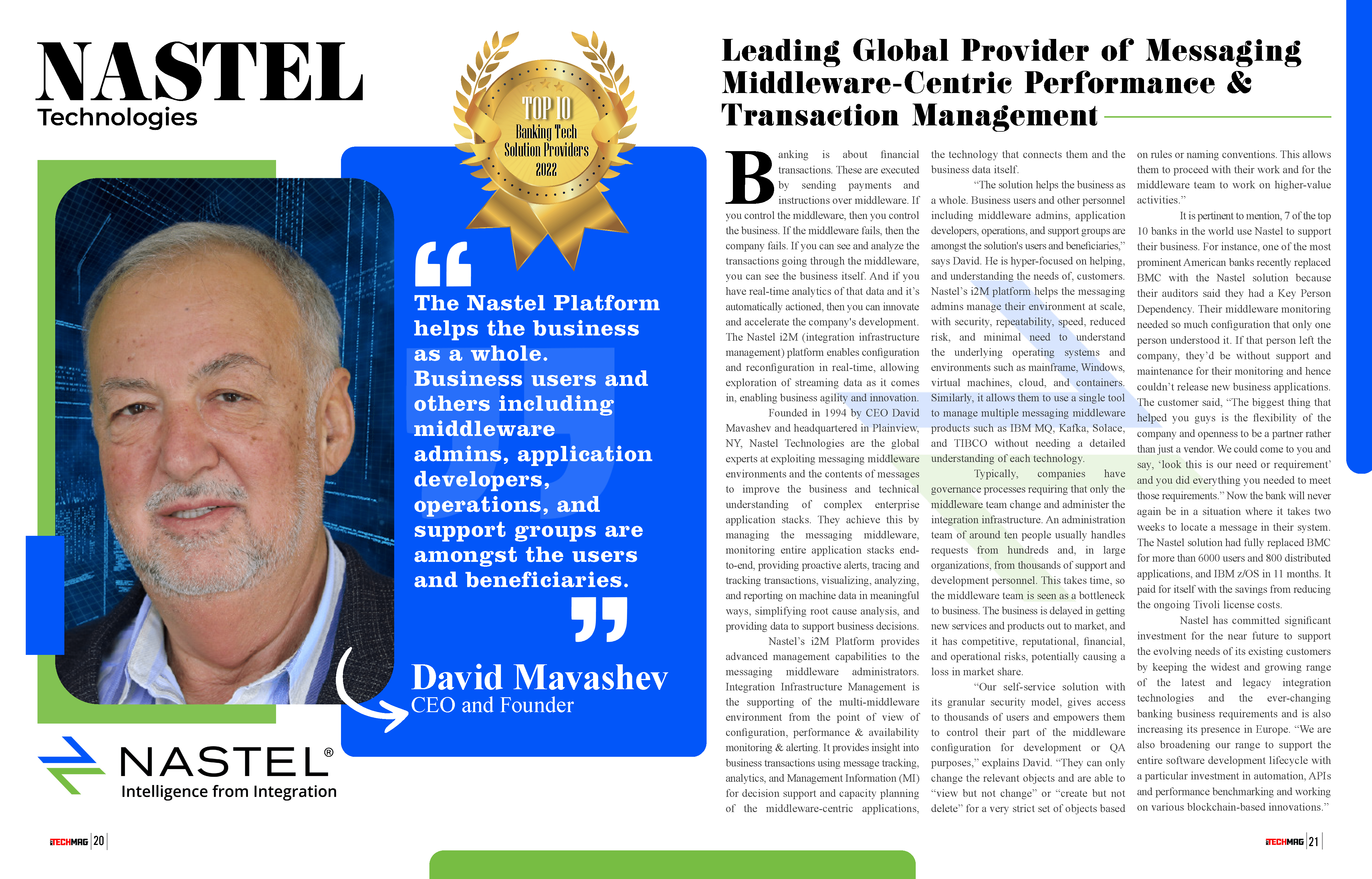 Nastel has committed significant investment for the near future to support the evolving needs of its existing customers by keeping the widest and growing range of the latest and legacy integration technologies and the ever-changing banking business requirements and is also increasing its presence in Europe. "We are also broadening our range to support the entire software development lifecycle with a particular investment in automation, APIs and performance benchmarking and working on various blockchain-based innovations."
This article originally appeared in MyTechMag Banking Tech Special Edition September 2022. To read the full magazine, click here.