Industry Experts Weigh in on "Digital First," On-Prem vs. Cloud & "Data Driven" Enterprises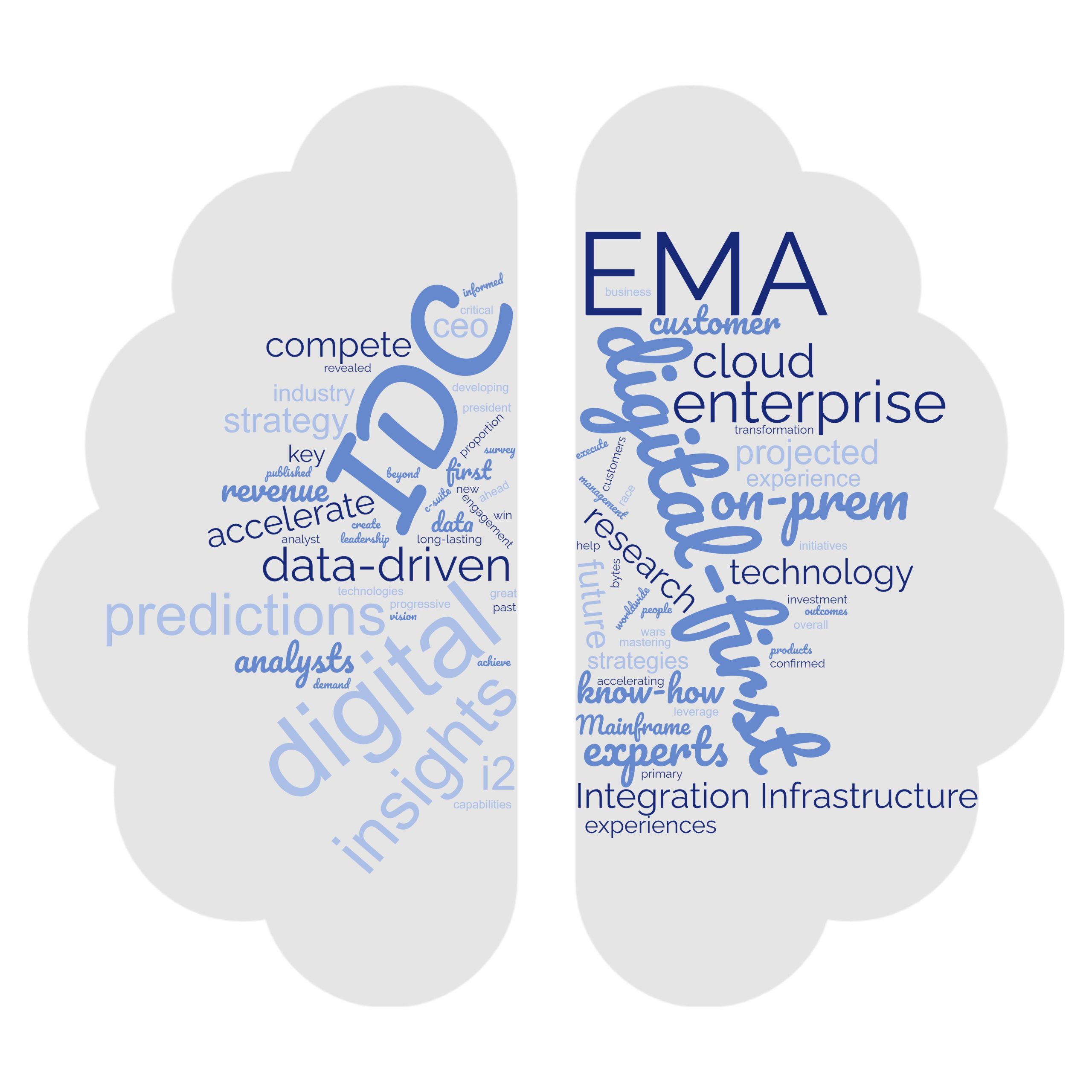 Industry analysts do primary research and two of the best, IDC and EMA (Enterprise Management Associates), have recently published some great insights for enterprises in 3 areas:
1.Digital First
Analyst firm IDC has revealed that their "Key Predictions for 2022 and Beyond" include that companies are dramatically accelerating their "Digital-first" initiatives to win in the customer experience (CX) wars and the race to increase digital revenue streams. This is confirmed by insights from IDC's 2022 Worldwide CEO Survey. Key bits include:
"When asked about skills critical to CEO success, "digital know-how" topped the overall list, just ahead of business strategy acumen and people leadership. This reflects the recognition in the c-suite of technology as a way to compete. However, in the CEO role, the "know-how" is not about the bits and bytes, rather it's about developing the digital vision and strategy, and executing on that strategy, in an informed way, with the right teams and technologies in place." Also, IDC shared that, "The investment in new technology has ramped up to meet the accelerated demand for digital capabilities, particularly over the past two years. And CEOs are optimistic about future digital revenue streams, as the average proportion of revenue from digital products, services and experiences is projected to increase 11 percentage points from 2022 to 2027."[1]
"The future of CX is digital-first. Organizations must rethink their customer engagement strategies, and leverage technology and data to help their customers achieve better outcomes and create long-lasting empathetic experiences," says Daniel Zoe Jimenez, Associate Vice President, Digital Transformation, Future Enterprise, and Customer Experience research, IDC. "Our research shows that organizations with digital-first CX strategies, and that are more progressive in mastering CX technologies and leveraging data, outperform those that do not," adds Jimenez.
2.On-Premises vs. Cloud
Participating in the recent IDC Directions 2022 event, another item stood out. In an event dominated by talk of Web3, Metaverse, and other future-focused topics, "Software Forecast for On-Prem vs. Cloud" still shows On-Prem software spending being larger in 2022, and growing through 2025 (and likely beyond that). As expected, Cloud software spending is projected to grow faster than On-Prem but old-school, on-premises computing is alive and well. NOTE: Alphabet and Microsoft alone are spending $40B on Cloud infrastructure this year, with Amazon doing twice that number. In the Closing Keynote, "Three Steps to the Future" by Benedict Evans[2], he also reminded everyone that Mainframe is still growing impressively, year after year after year. NOTE: I felt vindicated by that one as I had co-developed a documentary film about the history and bright future of the Mainframe back in 2010.
3.The Journey to Become a Data-Driven Enterprise
Finally, I got a sneak peek of the slides and content for EMA's new webinar on this hot topic and I recommend you check out this free EMA webinar taking place on Tuesday, April 5th, 2022.
EMA Webinar: The Journey to Become a Data-Driven Enterprise
April 5, 2022
10 a.m. Pacific | 1 p.m. Eastern | 6 p.m. BST Register Now
Here is what the EMA presenter (and author of the associated research report) has shared about his presentation: "This webinar will examine what it means to be data-driven and how organizations can use data analytics to achieve business outcomes.
Organizations have embarked on the journey to be data-driven for years. However, with the recent changes in the world, organizations are accelerating their digital transformation initiatives to meet increasing changes in the operational landscape and data analytics." – Will Schoeppner, Research Director, EMA
Based on new EMA research, this webinar will examine what it means to be data-driven and how organizations can use data analytics to achieve business outcomes and Mr. Schoeppner will discuss key findings from this research, including:
Perception of maturity and culture is high; however, perception of an organization's strategy to be data-driven is not as strong
Increased workflow and process automation are requirements for a strong platform in any organization striving to reach maturity in being data-driven
Resources and leadership are key factors preventing an organization's maturity from being data-driven
Security is the top reason for being data-driven
Improved efficiency is the highest benefit of being data-driven
Technology roles focus on reducing errors, monitoring, and detection, while execs focus on efficiency, accountability, IoT, and automation
Scalability and customer experience are the main reasons for EMEA companies selecting data analytics tools, while security and ease of use are the top reasons in North America
Management across all industries is now making it a priority to fix gaps in data needs, and most aim to do it within six months
Register for the Webinar Now and you will also receive a copy of the full research report.
WEBINAR SPEAKER/REPORT AUTHOR:
Will Schoeppner, Research Director, EMA
Conclusion
I've learned much from the industry's experts in the past few weeks and while at first the information seems contradictory, upon reflection it makes sense. For today's enterprises, the focus is clearly on using their own data along, with new technologies and processes, to become Digital-First organizations employing data-driven decision-making as much as possible. At the same time, both those initiatives rely on 1) a complex, fast-growing IT estate featuring legacy and cutting-edge technologies and 2) the data which resides in those components and within the Integration Infrastructure (i2) layer that acts as its central nervous system.
The much-desired future state is within reach, but the path to traversing the last mile is not an easy one, and it requires continued focus on what was built years ago to have any chance of success.
——————————————————————————
Notes and Sources:
[1] IDC Blog: The CEO Tech Agenda in a Digital-First World: 5 Key Priorities for CEOs Today
2 https://www.ben-evans.com/presentations