CX Makes This 'CrossWorld' Estate Sexy Again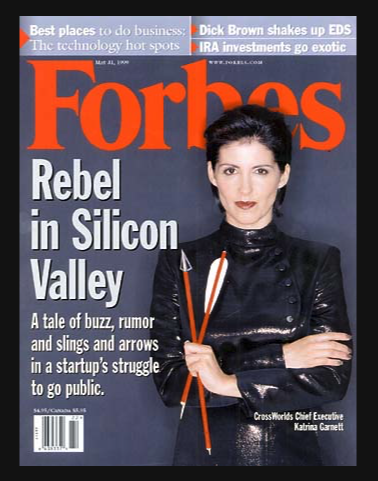 Almost exactly 19 years ago IBM acquired CrossWorlds Software to add to their WebSphere business-integration middleware business. CrossWorlds was famous (or infamous) back then mainly because of its founder and approach to advertising, publicity and PR (public relations).
Founder/CEO Katrina Garnett's sexy photos were seemingly everywhere for a few years, including the cover of Forbes Magazine with the headline, "Rebel in Silicon Valley" as she worked the public relations circuit to help take her tiny middleware software company public. Middleware, enterprise application integration (EAI), and even messaging middleware were sexy, even by Silicon Valley standards.
The "messaging middleware estate" (as it's now known) is a different place in 2020 but with flawless customer experience (CX) being top of mind and companies like AppDynamics, Splunk, New Relic, Dynatrace, Nastel, Datadog, etc. helping companies better understand how to improve CX in the increasingly complex enterprise IT space, this undervalued middle-of-the-stack estate is becoming a bit sexy again as the messaging middleware (e.g. IBM MQ, Tibco EMS, Apache Kafka, etc.) directly impacting CX is often the home of the missing insights needed to crack the modern CX code.
Expertise in exploiting messaging middleware environments to extract and analyze the data to improve performance across a complex enterprise application stack is what's needed today to provide the flawless experience customers and prospects demand. That is where a company like Nastel Technologies, with 25 years of innovation in this messaging middleware estate, fits into the 2020 CX landscape.
Two decades ago a renegade founder/CEO made this estate sexy and now it's seemingly come full circle (albeit with transaction tracing visualizations instead of sexy photos).
If you remember CrossWorlds, its products, the $1M "LBD" ad that started it all or Katrina Garnett's meteoric Silicon Valley rise, we'd love to hear from you, so leave a reply and keep the conversation going.